A cross between the Maltese and the Poodle, Maltipoos are an adorable and fun-loving toy dog breed. Their small size and gentle demeanor make them excellent for apartment dwellers, single households, and families with children. At Barb's Precious Pups, our Maltipoo puppies are up to date on all vaccines and are ready to come to their new home. We ship nationwide, allowing everyone in the US to experience the joys of a Maltipoo puppy in their home.
Maltipoo Personality
When you adopt a Maltipoo from Barb's Precious Pups, you'll be receiving an affectionate and proud companion. Maltipoos bring the best of both Malteses and Poodles. They are extremely intelligent but also warm-hearted, making them a kind companion for kids, seniors, and adults alike.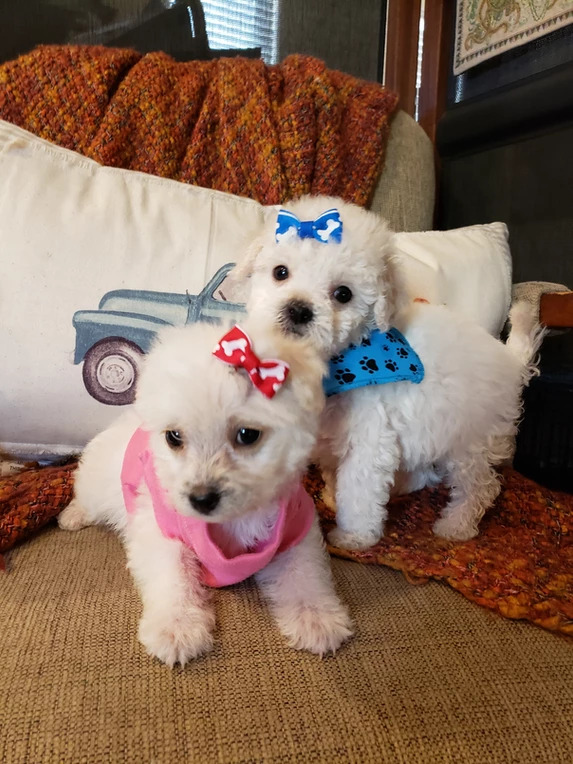 Maltipoo Appearance
Maltipoos are considered toy dogs for a reason. They grow to only about 14 inches tall and weigh anywhere from 5 to 20 pounds. Their soft coats can be found in almost any color but are typically white or cream with a wavy or curly texture.
Caring for Maltipoos
Hypoallergenic with low-shedding coats, Maltipoos nevertheless require some regular grooming. A daily brushing should keep their coats clean and healthy, with a bath at least once a month. Additionally, Maltipoos are high-energy, but they'll only need a moderate amount of exercise to get rid of some of that excess energy.
If you're looking to make a Maltipoo puppy a part of your family, contact Barb's Precious Pups today to learn more about our available pups!